BirdWeb: Seattle Audubon's Guide to the Birds of Washington State
Bird of the Week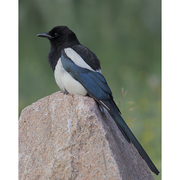 A boisterous and intelligent bird, the Black-billed Magpie may be one of the few songbirds you encounter in Eastern Washington in winter. Look for a large, mostly black and white bird with a long tail. They scavenge in agricultural lands for a variety of foods, including berries, nuts, and seeds.
Birding Site of the Week
Marymoor Park is a 640-acre oasis on the east side of the heavily developed greater Seattle area. The park offers great birdwatching opportunities year-round. In winter, look for Cackling Geese, a wide variety of ducks, Mew and other Gulls, Wilson's Snipes, Sharp-shinned and Cooper's Hawks, Northern Shrikes, and Fox, Lincoln's, White-throated, and Golden-crowned Sparrows.
Get Involved with SAS

Seattle Audubon has numerous resources available to you.